Cycle Studio Lockers & Spin Studio Changing Rooms
Improve member experience with our bespoke solutions for spin studios and cycle studio changing rooms, stylish and built to last.
Spin and cycle studio locker room solutions
Spinning and indoor cycling have become extremely popular leisure and fitness activities across the world, bringing with it, a desire for stylish and practical storage and furniture. We have unique experience in helping and supporting cycle studios and spin studios in their quest to give the best customer experience.
Our spin studio lockers and changing room furniture deliver functionality with an exceptionally high level of workmanship and style. Our cycle studio storage solutions are already installed within a prestigious selection of leisure establishments from leisure centres to individual premises.  Creating an environment that is inspiring, motivating, and practical is something that we have learnt through experience. Something that has made us a firm favourite for architects and designers of spin studios, is our unparalleled collection of cycle studio furniture and bespoke changing room options.
A full changing room solution for cycle studios
Whether you are a small boutique cycle gym looking to expand or an already established brand looking to renew and breathe life into your existing spin changing rooms, we can help.
Not just providers of cycle studio lockers, we can support your journey to creating a spinning changing room space that will be the envy of competitors. Utilising our knowledge gathered over many years we can create an environment that supports the needs of your members and guests fully. Our full changing room solutions expand to washrooms and ancillary furniture, all of which is bespoke created for you and improve the cycle studio's facilities. Contact us today to find out more about how we can work with you to create a changing space that will be revered by all.
The integrated inorganic Biomaster non-leaching technology that we used never wears off, assuring continued antiviral and antibacterial protection. The board is homogeneous, featuring a closed-cell PVC foam core and solid PVC surface. All of our antibacterial lockers are non-toxic, non-porous and formaldehyde-free.
Cycle studio bench seating
Giving your cycle studio members bench seating in your changing room increases their comfort levels and improves their overall experience of your establishment. Spin studio furniture such as bench seating can also improve safety in an area that is often wet and congested, and at the same time giving you another way to enforce your brand colours. Our bench seating is available in an ever-growing selection of colours, finishes and materials, making brand alignment possible for any cycle gym.
Washrooms for spin studios
Using our knowledge of creating wet and dry changing spaces, we can create cycle studio washroom solutions that are stylish, durable, and practical. As with all our offerings, our cycle studio washrooms are designed with you in mind, utilising space in the most practical way possible. As experienced designers, manufacturers, and installers of commercial washrooms, we excel in creating washrooms that give a lasting impression.
Vanity units for spin studios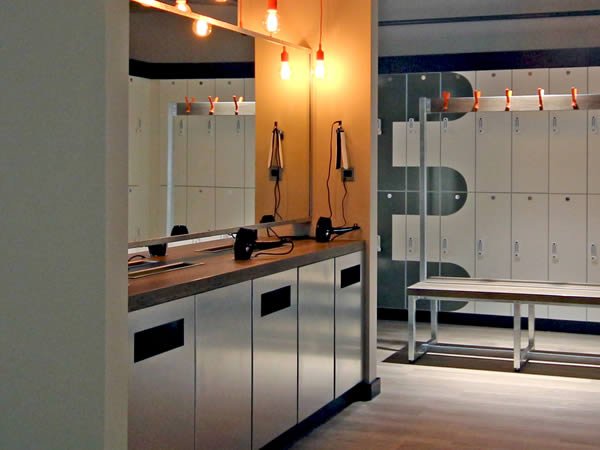 Creating a cycle studio changing room and facilities that will increase visitor experience and in turn, their loyalty is important. One ancillary option that you can provide is the addition of vanity units, allowing guests to readily prepare for their departure and arrival. Whether you are creating mixed or male and female spin studio changing rooms, our vanity units are a welcome feature for all.
Available in countless finish options, our vanity units enable you to carry your branding throughout your changing facilities.
Towel storage units for cycle gyms
Like any changing room, cycle gym changing rooms require storage facilities for items such as towels and other complementary items that you provide. We can provide studios with items of furniture such as towel storage units, designed to fit in with any colour scheme. Depending on your services and offerings we can easily create bespoke storage units such as towel units, to improve your day to day operations.
Our cycle studio changing cubicles are created to the same high standards as all of our changing room lockers, using woods and finishes that excel in durability. Whatever the size and layout of your cycle studio, we can create changing cubicles of all shapes and sizes, giving you a solution to your visitors' privacy needs and demands. With a dedicated project manager, you can be sure of cycle studio changing cubicles that meet your every need.
Additional information for cycle studios
To find out more about how we at Crown Sports Lockers can help support your spin or cycle studio, please contact us on 01803 555885, or email us via our contact form.
We enjoy a highly personal service
My predecessor sourced Crown, liked them and specified them for Mortimer Street and we have continued the relationship ever since. 
We enjoy a highly personal service from Crown, with dedicated project manager Spencer Grimwood in regular contact before, during and after each installation.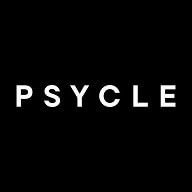 Crown's the 'Psycle logical' choice
Now working towards its fifth fitout for Psycle, changing room specialists Crown Sports Lockers has installed bespoke male and female lockers and seating to suit the site demographic.
We have a full gallery of images of the cycle studio projects that Crown Sports Lockers have carried out. To see more click the button below.