Golf Lockers & Golf Club Changing Solutions
Our collection of stylish and functional bespoke golf club lockers, changing rooms & washrooms. Designed, built, & installed to the highest standards.
The golf locker specialists
Creating golf lockers, golf club storage and changing areas that showcase elegance, style, and brand is what we excel at. Our craft has been honed through over 30 years of experience of in-house designing, manufacturing, and installation of bespoke golf lockers and changing room solutions, giving us a unique insight into creating a bespoke and secure area that your golf club deserves.
Every golf club project is bespoke, and in a sector where buildings are steeped in history with an extremely high level of interior decoration and branding, it is important to blend functionality with style. It is our objective to help achieve this by ensuring the changing room design and furniture complement the rest of the club house, and meet day to day operational requirements with a minimum demand on the maintenance team.
We at Crown Sports Lockers have been designing, manufacturing, and installing golf lockers since 1993, achieving formidable, finished results that are the pride of place in an exclusive selection of the UK's most prestigious golf clubs.
At the forefront of wooden locker rooms
Crown Sports Lockers can assist you in creating the perfect golf club storage space, helping your golf club meet the day-to-day operational requirements with our practical, functional, and durable golf lockers. Whether you are seeking entry-level standard range wooden lockers, tailored bespoke lockers, or a full refit solution for your golf club, you can be assured of a knowledgeable and professional service from start to finish.
Golf lockers are a practical and stylish way to store golf bags, personal possessions, valuables, and are easy care. Through in-house design and manufacturing, you will find our extensive list of construction features such as laminate and veneer locker doors, traditionally constructed solid oak frame doors, with a choice of centre panels and wood species. Security-wise, golf lockers can come with a master-keyed cam lock system or keypad entry locks – the choice is yours. Alongside our golf lockers, we can also supply and fit an extensive range of supporting products such as free-standing locker room seats or integral locker seats, scorecard desks, notice boards, mirrors, vanity stations, and washrooms.
Our golf club furniture and washroom solutions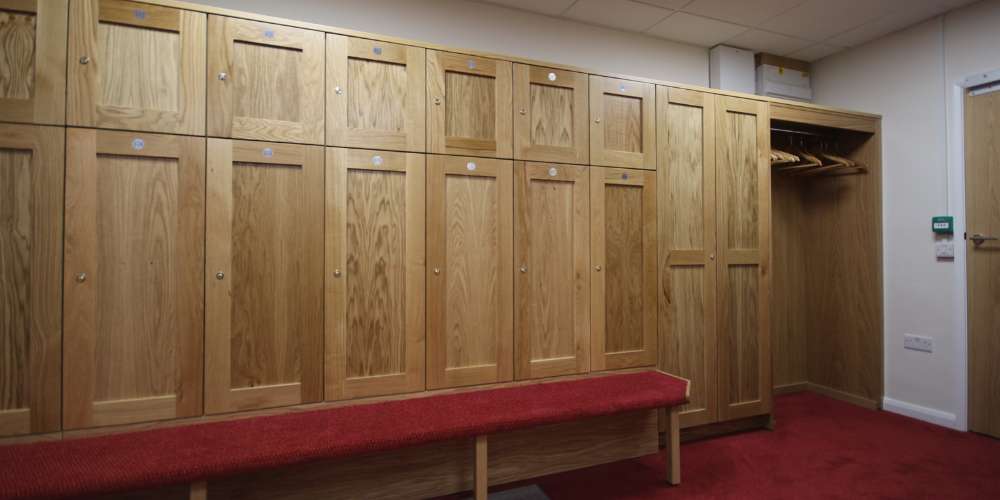 Bench seating for golf clubs
The popularity of golf has increased tenfold in recent years, and so have our golf club changing room and golf locker offerings. Bench seating is one ancillary offering that we pride ourselves on, offering a durable, practical, and stylish additional option to our golf lockers and changing rooms. Available in a range of finishes and materials, our golf club bench seating is second to none, and the perfect way to enhance any golf club locker room.
Golf clubs strive for durable yet stylish washroom solutions, with branding and customer experience at the forefront. We have unique knowledge and experience, enabling us to create a washroom environment that will give a lasting impression to your members and guests. Our craftsmanship has made us highly regarded within golf club circles, with designers turning to us to deliver an elegant and stylish golf club washroom.
Hanging units / robe units
Hanging units, also known as robe units are a staple of our offerings to golf clubs, giving visitors an added level of convenience for storing and managing their clothing and accessories. Our hanging units are bespoke and can be created in a wide selection of finishes and materials. The perfect clothing storage solution for any golf club looking to increase member satisfaction and comfort.
We provide exceptional vanity units and dressing tables to golf clubs, easily incorporated into any changing room design. With golf changing rooms demanding high aesthetics, our vanities are very pleasing to the eye, and an added convenience to suit all changing needs. Available in countless finish options, our vanity units enable you to carry your branding throughout your changing facilities.
We can design, manufacture, and install bespoke golf club noticeboards for use within your clubhouse. Our noticeboards can be created to suit any space and surrounding colour and finish schemes. Utilising our craftsmanship and using traditional joinery techniques we can also create an ever growing selection of wooden ancillary products that are necessary for your day to day operations.
Like any changing room, golf club changing rooms require storage facilities for items such as towels and sanitary items. We can provide items of furniture such as towel storage units, offering you a stylish, safe and durable answer to storing items within what can be a congested and wet environment. Items such as towel storage units can be built to fit in with any finish and colour scheme.
Additional information for golf clubs
To find out more about how we at Crown Sports Lockers can help support your golf club, please contact us on 01803 555885, or email us via our contact form.
Everyone is delighted with the design
From our initial enquiry through to completion it has been a pleasure to deal with Sam and his team at Crown…
…The area is now utterly transformed and everyone is delighted with the design and quality.
On Lancashire's `Golf Coast`, Fairhaven has transformed its golf clubhouse changing room areas during a £1.3m modernisation.
We have a full gallery of images of the golf club projects that Crown Sports Lockers have carried out. To see more click the button below.
Would You Like To Know More?
To find out more about how we at Crown Sports Lockers can help support your golf club, please get in touch with us via the contact form provided or call us on 01803 555885.