A high-end, flexible office environment with luxurious benefits.
Project Overview
Sópers House is a prestigious, out-of-London, multi-occupancy building in the South East, with 70,000sq.ft. of office space including dedicated offices and co-working opportunities.  This modern, state-of-the-art concept is based in Potters Bar in Hertfordshire, and encourages collaboration and networking, whilst offering a multitude of excellent on-site facilities.
Crown Sports Lockers were proud to have won the contract to design, manufacture and install quality wooden lockers and associated changing solutions for both the male and female changing rooms in the new spa.
Securing the Contract
Sam Palmer, one of the Directors and Co-owners of Crown Sports Lockers explained "We were delighted to have been contacted by Carol-Anne Brunt, the owner of Sópers House, after she had initially found us on Google search. Carol-Anne submitted an enquiry in January 2023, and we arranged a site meeting during the same week. It was apparent from the first visit that this was a high-end facility with a strong emphasis on design and materials."
Sam continued "After a successful initial meeting, we secured the order in early February and immediately commenced working on creating the layouts to meet the requirements of the client.  Installation followed a few weeks later, transforming the new changing rooms into top-of-the-range, luxurious areas which complemented and enhanced the look and feel of the new spa provision."
Exceptional Quality Control
Crown Sports Lockers have been established for over 30 years, and during that time have amassed an extensive amount of knowledge and experience in producing high-quality, durable, and practical wooden lockers and associated items, whilst taking the required aesthetics into account.  They carry the 'Made in Britain' mark as their products are both designed and manufactured on their premises in the South West of England.  Advantages include being able to monitor the entire process, with exceptional quality control, ensuring that all products meet with their exacting high standards and clients receive wooden lockers with a superior finish every time.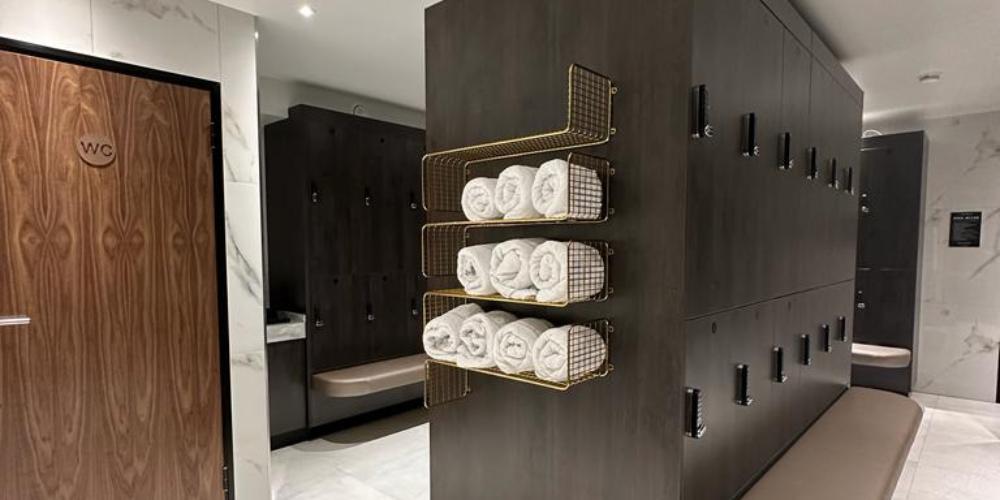 Quality Wooden Lockers & Changing Solutions
The installation was carried out by a team of Crown's skilled fitters, fulfilling the client's brief for the male and female changing rooms.  Sam continued "We produced and installed 2-tier clothes-hanging lockers with digital keypad locks in a black finish; integrated upholstered seating, finished in Agua Argentex Mink contract vinyl; towel dispense and drop units finished in Polyrey Teck Carbone to match the lockers; shower cubicles, plus private changing cubicles in matching compact laminate, complete with black satin ironmongery; solid surface wet and dry vanity stations with Durasein 'Icy White' worktops, and spin dryer units to match."
Client Testimonial
"After having done some extensive research on high-end changing rooms, we decided that Crown Sports Lockers were the perfect choice. From the initial phone call, they gave me the confidence that they could supply our ideal facilities. We couldn't recommend them enough. The designs are elegant, and the guys who fitted them were thorough and professional. We have had endless compliments on our lockers and couldn't thank them enough for making our plans come to life."
Carol-Anne Brunt – Owner, Sópers House
About Sópers House
Sópers House has been meticulously designed and converted into a modern office building, after previously being a 1970's workshop.  Boasting flexible office solutions and conferencing areas, combined with a convenient location – easily accessible by vehicle, by foot or cycling – it offers ideal end-of-trip facilities, including showers, lockers, a café a fine-dining restaurant.  Members can take advantage of their spectacular fitness suite with a huge array of top-quality strength equipment, and classes which include Sculpt & Spin; Core Power Vinyasa Flow; Corebox Boxing, and Flow & Restore Yoga amongst others.  They can also access E-charging points; a 60-seater auditorium; concierge; client services; 24-hour security; 2 executive boardrooms; high-speed wireless fibre internet (10G) and treatment rooms amongst many other benefits – all accommodating the requirements of today's modern business world.
Final Words from Crown Sports Lockers
"This was a fantastic project to be involved with and our clients here, were a pleasure to work with. The end result exceeded our expectations and has given us an excellent reference point for our ever-diversifying portfolio."
Sam Palmer – Director and Co-owner, Crown Sports Lockers