Rugby Changing Rooms & Rugby Lockers
Durable wooden rugby lockers and rugby changing room facilities designed, manufactured and installed for professional & local clubs in the UK & overseas.
At Crown Sports Lockers, our accomplished team are experienced in producing wooden rugby lockers for home changing rooms, away changing rooms, training ground changing rooms, referee and officials changing rooms, either from a standard or bespoke design.  We design and manufacture our quality wooden lockers 'in-house,' allowing us to monitor progress and integrity at close quarters, and have been doing so for over 30 years.  Our skilled installation team will ensure your rugby lockers are in-situ with minimal disruption to your organisation.
Whether you require a refurbishment to existing rugby changing rooms or a brand-new installation of rugby lockers, we complete projects for both professional and local rugby clubs in the UK and overseas.  Most recently, we fitted lockers for Bath Rugby Club – a professional rugby union club in Somerset.  We have also installed numerous professional football club lockers/changing rooms.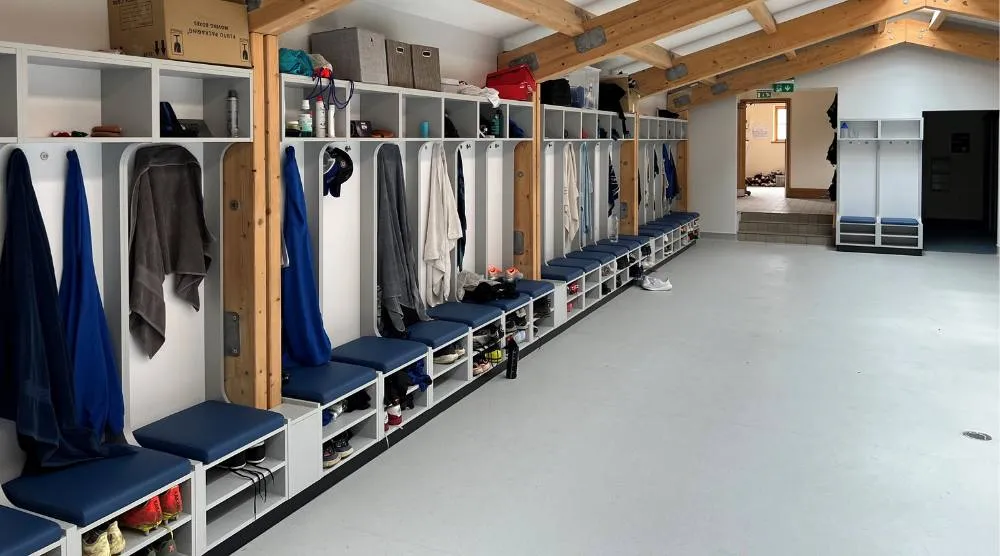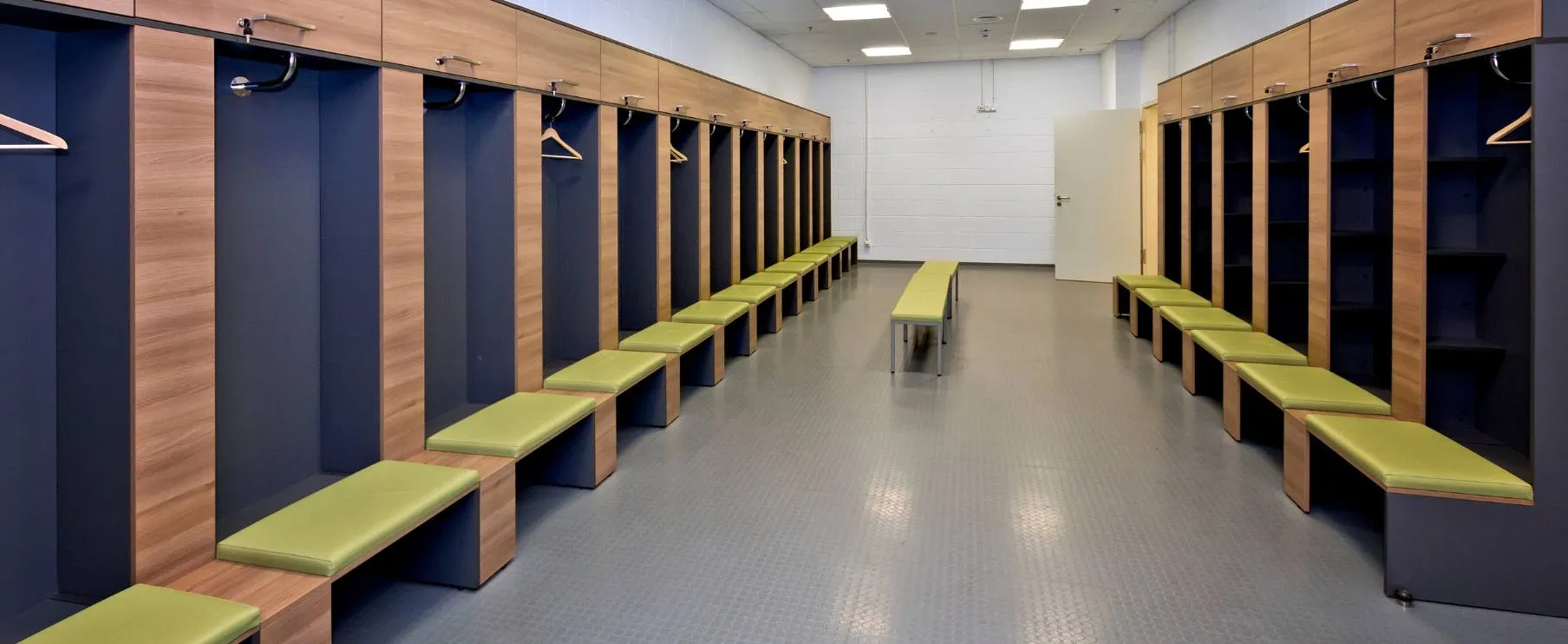 Once you have agreed to work with us, a Project Manager will be assigned, and will liaise with you throughout the project, from enquiry to completion for quality assurance purposes.  If your club is affiliated to associations such as Sport England, their guidelines regarding the layout of changing rooms can be taken into account when planning your project.
Wooden rugby lockers with boot storage can be manufactured in a variety of finishes and colours, and are extremely hard-wearing.  Upholstery can be undertaken for integral bench seating, chosen from a range of materials to match your branding/colour palette if required.
To complement your rugby changing room, we can include additional items, such as hanging rails, coat hooks, extra compartments, mirrors and in-locker device chargers.  If requested, we can quote on the addition of washrooms and ancillary products such as towel drops.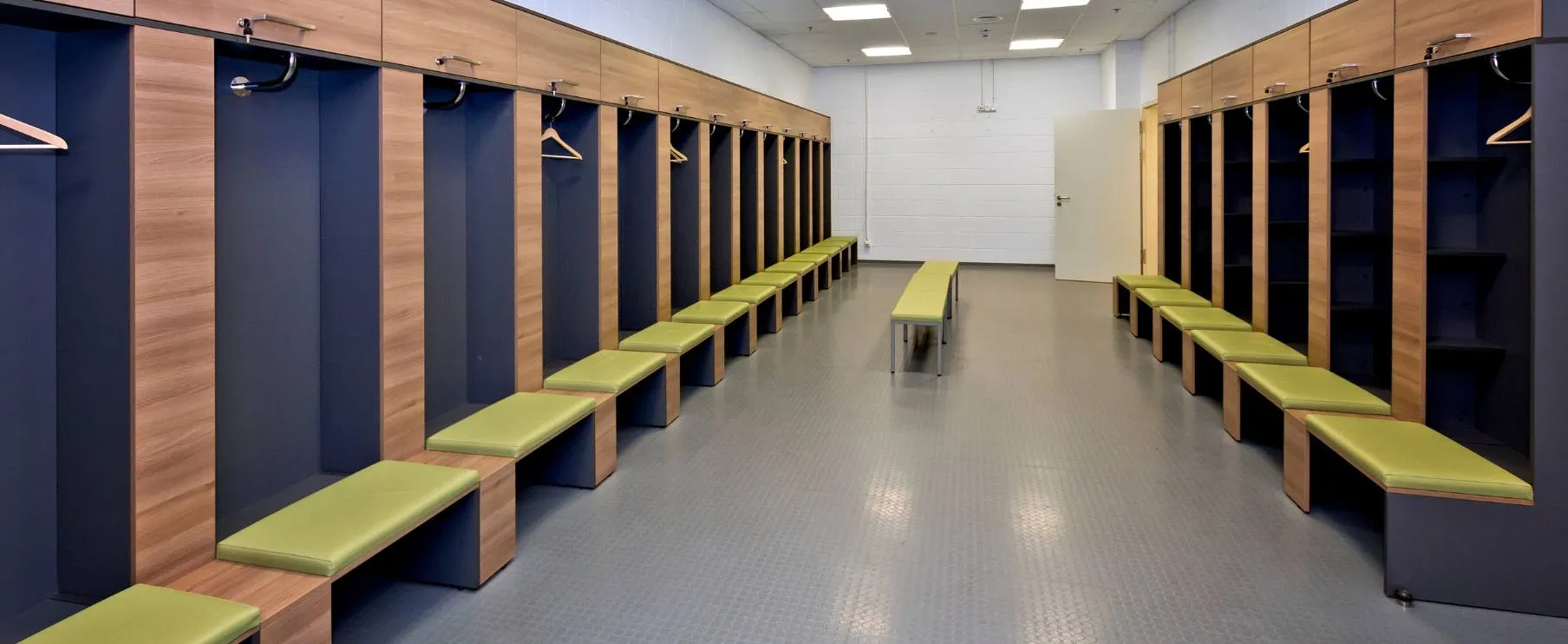 If you would like to enquire about any of our rugby lockers, rugby changing rooms or other associated products, please do not hesitate to contact us on 01803 555885 or email us by completing our contact form. Thank you.
A few of our happy clients…
Golf Lockers
Headingley Golf Club
From our initial enquiry through to completion it has been a pleasure to deal with Sam and his team at Crown. We required not just lockers but also storage units, hanging space and notice boards for our ladies' locker room. The area is now utterly transformed and everyone is delighted with the design and quality.
Football Lockers
Helston Athletic
May I record a massive thank you to both Crown and their fitters on the excellent work completed with the installation of new home changing room facilities at Helston Athletic Football Club.
We are delighted with the all-round high quality of the installation and certainly will be contacting them regarding further work.
Cycle Studio Lockers
Psycle London
Crown's installs across our network of Spin studios have delivered robustness and style under a close, friendly and helpful working relationship.