Staff Lockers
Practical and secure staff lockers and staffroom lockers, designed, manufactured and installed for businesses in the UK and overseas.
Staff lockers, whether positioned in a staffroom, a corridor or a designated space, provide a secure and risk-free environment for your staff to store coats, uniform, bags, technology such as mobile phones/tablets/laptops and other personal effects such as car keys, wallets and purses.  This helps to raise morale, by letting your employees know that they are valued.  It also helps to keep the workplace free of clutter.
Whether in a hotel, spa, school, sports club, healthcare environment, a factory, leisure centre or other place or work, our secure wooden staff lockers are the ideal solution.  You can choose from standard designs or we can design bespoke staffroom lockers to match or complement your branding/colour scheme.  Finishes include woodgrain or plain colours with matching, machine-applied ABS edging.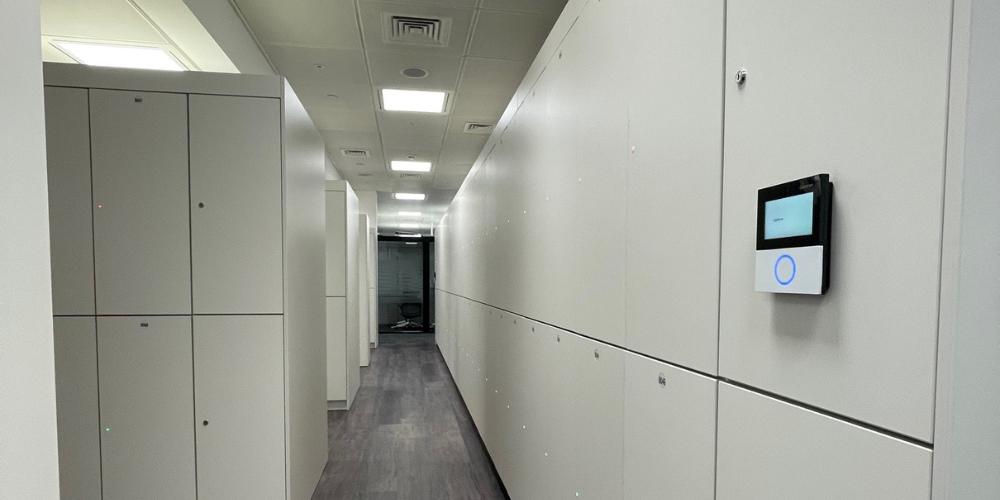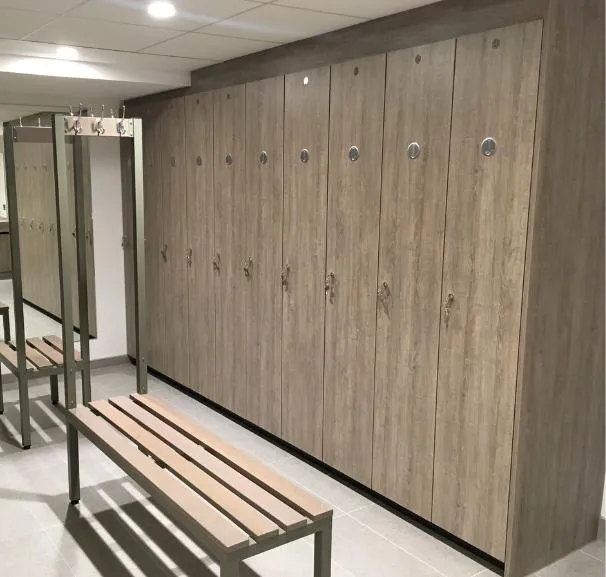 Staffroom Lockers/Wooden Lockers
Wooden staff lockers are manufactured 'in-house at our premises in Paignton and we have our own expert team of installers to finish your project to a high standard.  This allows us to monitor both the standards in the manufacturing process and the quality of the completed, installed project.  Crown Sports Lockers have been producing quality wooden lockers for over 30 years, and carry the 'Made in Britain' mark.
To maintain security and peace of mind for your employees, our staffroom lockers come with a choice of locking mechanisms, including padlocks, digital keypads, combination locks, digital RFID locks and digital RFID networked locks.
Ancillary products such as hanging rails, coat hooks, mirrors, bench seating and in-locker device chargers are also available on request.  Washrooms can also be quoted for if required.
If you would like more information about any of our football lockers, football changing rooms or other associated products, please do not hesitate to contact us on 01803 555885 or email us by completing our contact form. Thank you.
A few of our happy clients…
Golf Lockers
Headingley Golf Club
From our initial enquiry through to completion it has been a pleasure to deal with Sam and his team at Crown. We required not just lockers but also storage units, hanging space and notice boards for our ladies' locker room. The area is now utterly transformed and everyone is delighted with the design and quality.
Football Lockers
Helston Athletic
May I record a massive thank you to both Crown and their fitters on the excellent work completed with the installation of new home changing room facilities at Helston Athletic Football Club.
We are delighted with the all-round high quality of the installation and certainly will be contacting them regarding further work.
Cycle Studio Lockers
Psycle London
Crown's installs across our network of Spin studios have delivered robustness and style under a close, friendly and helpful working relationship.