Workplace Lockers
Quality wooden lockers, designed, manufactured & installed for workplaces of all sectors, ideal for employees, visitors or customers in the UK & overseas.
Lockers For the Workplace
At Crown Sports Lockers, we design, manufacture and install practical, and hard-wearing wooden workplace lockers for all sectors, including (but not limited to) offices, hotels and spas, the leisure industry including health clubs, gyms, swimming pools, golf clubs, sports clubs, healthcare environments, independent schools and educational establishments.
Workplace lockers can provide locker storage for employees to keep personal possessions safe, or for storing PPE and uniforms.  These can be installed in staffrooms, corridors, or other designated areas.  If workplace lockers are used in offices, they can provide vital secure storage for valuable documents, sensitive documents and for laptops/tablets etc.  Our lockers can be used in the leisure and sports club sectors for staff, or within changing rooms for teams, members and casual visitors alike.  Factories can utilise storage lockers for tools or clothing and possessions in both hygienic and dirty environments.  Schools use our locker storage for classroom storage, pupils' possessions or for staffrooms.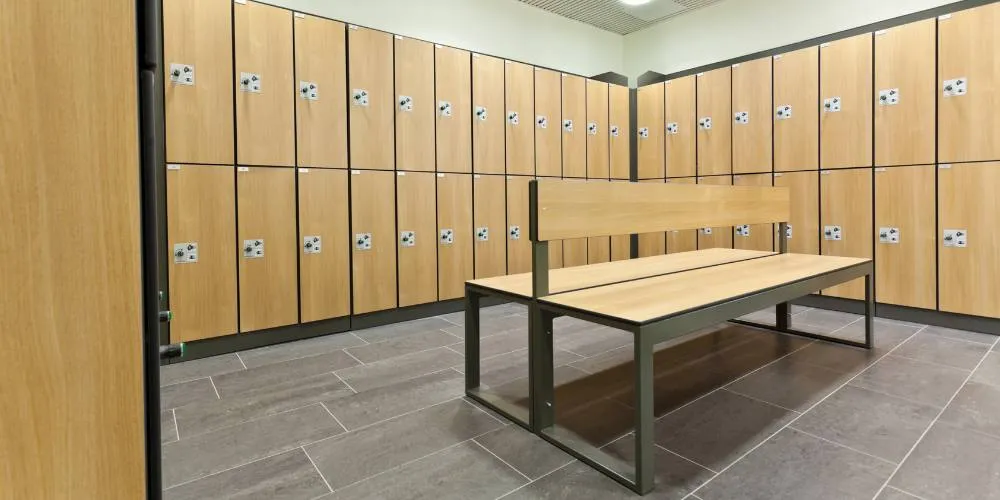 You can choose to have your wooden lockers made from standard designs or we can design them bespoke to your requirements.  One of the projects we completed was for 350 staff lockers at 'The 22'– a classic boutique hotel in Grosvenor Square, London.  We also installed new hygienic lockers and changing rooms at all 3 of Beechcroft Carehomes in Torquay, Devon to help protect staff and residents from Covid.  Lockers can be manufactured in various finishes and colourways according to your needs and the type of usage – Eg. Golf clubs require a more high-end style of locker such as a shaker door style, in colours to follow their branding whereas a factory may focus on the durability and a healthcare environment on white, waterproof and antibacterial finishes.
Our wooden lockers provide security and can be furnished using a various choice of locks.  Hinges are mounted on to cast plates with a two-way cam adjustment so do not work loose.  Ancillary products include bench seating, hanging rails, coat hooks, mirrors and more.  Washrooms and in-locker device chargers are available on request.
For more information regarding Workplace lockers, uniform lockers or locker storage, please contact us on 01803 555885 or email us using the contact form.  Thank you.
A few of our happy clients…
Golf Lockers
Headingley Golf Club
From our initial enquiry through to completion it has been a pleasure to deal with Sam and his team at Crown. We required not just lockers but also storage units, hanging space and notice boards for our ladies' locker room. The area is now utterly transformed and everyone is delighted with the design and quality.
Football Lockers
Helston Athletic
May I record a massive thank you to both Crown and their fitters on the excellent work completed with the installation of new home changing room facilities at Helston Athletic Football Club.
We are delighted with the all-round high quality of the installation and certainly will be contacting them regarding further work.
Cycle Studio Lockers
Psycle London
Crown's installs across our network of Spin studios have delivered robustness and style under a close, friendly and helpful working relationship.